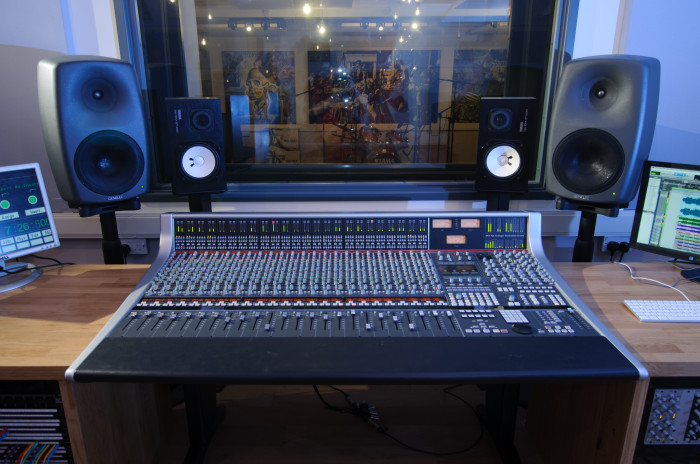 The Studio
The studio is central and core to the music production services provided. The comfortable environment creates a relaxed vibe ideal for music creation. The studio allows musicians to perform and record to a high quality acoustic standard, enhancing and maximising their music potential.
Artists, producers or engineers are welcome to contact us to discuss collaborative projects from recording to song writing or full music production.
Design
The design and acoustic treatment of the studio was by Adrian James Acoustics, expert acousticians based in Norwich. The facility includes a Control Room, Live Room and Vocal/Isolation Room. In addition the studio lounge is equipped to facilitate acoustic recordings.
The Control Room incorporates the SSL AWS 948 Analogue Console and a Genelec Monitoring System. Not only does the set up fit in the room well, the sound is amazing. The Live Room has proven to capture excellent drum recordings and is ideal for recording bands.
The Studio benefits from acoustically designed heating/cooling and fresh air flow.  This ensures a constant fresh environment and significantly improves the productivity of the musicians.
Ethos
The comfort of the studio and the relaxed vibe allows musicians to produce at their best. Our sympathetic approach is focussed on the musicians, assisting them to perform at maximum potential.
The digital hearback system allows the individual musician to control sound levels, enhancing their performance and productivity.
We see it as our job to provide a production service that enhances the quality of output. This will, in turn, help artists or bands to promote their profile in a positive way.
Pricing
The production services we offer are numerous and no project is the same.
Please call us to discuss your project and we can then offer you a competitive solution.
Feel free to visit for a coffee and a chat.
Equipment List
Console:
SSL AWS 948 Analogue Mixing Console
Monitoring:
Genelec 8260A's
Yamaha NS10m's
Hearback Monitoring System
Computer:
Apple Mac Pro – fitted with UAD Card
ProTools 10
2 x SSL XLogic Alpha Link MADI SX, Pro MADI to AES/EBU, AD/DA converter
Outboard:
Dynamics:
SSL X-Rack ( 4 x Mono Compressors & 1 x Stereo Compressor)
Effects:
1 x Lexicon 300
1 x Klark Teknik DN 780
1 x Eventide Eclipse
Microphones:
1 x AKG D112
1 x Shure SM 7
1 x EV RE20
3 x Shure SM57
2 x Shure SM58
2 x Beyer M201
4 x Sennheiser MD 421
1 x AKG C3000
2 x AKG C451
2 x AKG C414
1 x Neumann U87
Drum Kit:
1 x Tama Superstar Drum Kit
1 x 16″ Istanbul Crash
1 x 20″ Black Label Ride
1 x Pair of 14″ Zildjian K Dark Hi-Hats